NEWS RELEASE
FOR IMMEDIATE RELEASE
August 2, 2016
For more information call Gina Rice, Director of Operations (713) 626-4222
ANGLER CHERISHES FAMILY
AND LANDS HUGE BLESSING

After first giving thanks for family and blessings, and taking care of work duties, San Antonio resident, Mike Boyer and his wife, Gina, headed to the coast on Friday, July 29.  The couple has been married nearly 35 years and spending quality time together is something they truly enjoy and that includes fishing together.  Though the chores seemed never ending Saturday morning, July 30, Boyer was done by noon and able to keep his promise to take his wife fishing.  He cleaned up and he and his wife went into Rockport for lunch.  They passed by the movie theater and noticed the parking lot was nearly empty, so Boyer asked his wife if she would like to go on a movie date before going fishing. The couple had passed by that theater for years and never took the opportunity, but this just seemed like the perfect time to go.  After the couple's date, they got the boat gassed up, adult beverages iced down in the cooler and they were ready to head out at 5PM.  Boyer was wearing his new CCA shirt, a gift from his brother in-law and there's a story that goes with the shirt.  For years, Boyer has always told anyone going fishing with him about the CCA STAR tournament.  He lets them know they are not required to join to go fishing with him, but if anyone were to ever catch a tagged redfish on his boat and not be registered for STAR, then he would have to politely kick them off the boat right then and there, no matter how far from the boat ramp, as he couldn't bear the anguish due to someone not wanting to spend only $50 bucks in return for some really great CCA member benefits, such as Academy gift cards.  His brother-in-law got him the shirt after Boyer encouraged him to become a member.
The couple launched and picked up some mullet for bait at the first spot, then headed to their usual shoreline, anchored up and caught a keeper trout and one undersize red.  It was a little windy, so they headed to their second favorite shoreline protected by the wind, but no luck there.  With the sun setting fast, they headed further across St. Charles Bay to a spot Boyer had only fished around three times before.  Boyer admitted, "I had never caught anything at this spot, but it just looked right."  He anchored facing the shoreline about fifteen yards, in between two old duck blinds and cast a lively mullet on a fluorescent orange popping cork.  Boyer thought he felt a hit, brought it in, but no signs of a bite, so he cast right back to the same spot.  In a blink of an eye, Boyer's cork was gone.  He set the hook and game on!  The fight was strong, then a tail came out about 50 feet from boat and Boyer knew he had a Red!  It was a beast and peeled line every time it got close to the boat.  Boyer was sure it was an oversized redfish.  Having had a slow fishing year, he was very excited to finally be fighting a good fish.  The fish finally tired and Gina netted the beast.  As the couple struggled to bring the fish onto the boat,
Boyer noticed it appeared wider than normal for being under twenty-eight inches and had some grass on its side.  As Boyer removed the fish from the net, he noticed something by the dorsal fin.  Boyer said to his wife, "Honey, it's a tag!"  Boyer thought, "Oh no, it must be a 2015 tag… just my luck." Boyer quickly placed the fish on the deck for a closer look and made out in very small print, "2016 CCA".  Then it became obvious.  The excitement couldn't be contained, yelling and praising began, and all the while Boyer couldn't help thinking to himself, "OMG, why me?!"
After hardly sleeping that night, Boyer and his wife were parked bright and early the next morning directly in front of the doors of official STAR weigh station, Terry's Seaworthy Marine in the Fulton/Rockport area.  They waited for an hour and a half until they opened to weigh in tagged redfish TA847.  While Boyer was registering his fish, three guys came into the store unaware of the tournament, so Boyer couldn't resist pitching to them about dumb luck and how could you forgive yourself if you weren't a CCA member registered for the STAR tournament and caught a tagged redfish.  Boyer took a picture of the spot where he caught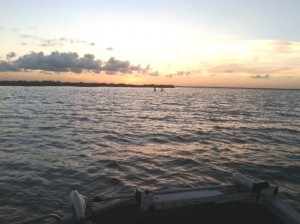 his fish and plans to hang it on the wall. "A moment in time we will never forget!" said Boyer.
CONGRATULATIONS TO OUR SECOND TAGGED REDFISH WINNER!  Fortunately for Mike Boyer, he was registered and is now the second lucky winner of a 2016 loaded Ford F-150 "Texas Edition" XLT SuperCab, pulling a brand new 23' Haynie BigFoot boat rigged with a Mercury 150L Pro XS OptiMax motor and Coastline trailer prize package, which will be awarded to him at the STAR Awards Ceremony in October.
Sadly, three tagged reds have been caught in the last eight days, but Mike is the only confirmed winner.  There are over fifty tagged redfish still out there swimming and three truck/boat/motor/trailer prize packages, plus five boat/motor/trailer prize packages still available to win in the Texas Ford Dealers Redfish Division and STAR Tournament doesn't end until Labor Day, September 5 at 5p.m.
Keeper-sized prizes can be claimed by STAR anglers who bring in the first 10 tagged redfish.  The first five winners will drive home in a 2016 loaded Ford F-150 "Texas Edition" XLT SuperCab, pulling a brand new 23' Haynie BigFoot boat rigged with a Mercury 150L Pro XS OptiMax motor and Coastline trailer.  The next five tagged redfish winners will each claim a 23' Haynie BigFoot boat with a Mercury 150L Pro XS OptiMax motor and Coastline trailers.
Last year ten tagged redfish were caught, but only five anglers claimed prizes.  The others unfortunately, were not registered for the CCA Texas STAR.
Other fish can net big rewards in the tournament.  STAR contestants who catch the largest speckled trout in the north, central and southern regions of the Texas Coast will each take home the legendary Mowdy 22 V, powered with a Suzuki DF150 4S motor and Coastline trailer.  STAR blue water anglers who land the heaviest kingfish, dorado and ling (cobia) in the Offshore Division will each win the awesome Polaris Ranger Crew 570 EPS UVs in Polaris Pursuit Camo each with a Big Tex 35sa Trailer.  In the Inshore Division the Shoalwater 19' Cat boat, Mercury 115 ELPT 4S motor and McClain trailer will also be given to the anglers for netting the biggest flounder, gafftop and sheepshead.
In hopes of luring more youth to the sport of fishing, the STAR Scholarship Divisions offer a total of ten college scholarships in $25,000 and $50,000 increments.  STAR participants, ages 6-10, who catch the largest flounder, sheepshead or gafftop will each be awarded a $50,000 college scholarship.  Participants, 11-17 years of age, who catch the largest flounder, sheepshead or gafftop, as well as, the largest speckled trout in each of the three Texas Coast regions (north, central and south) will each be awarded a $25,000 college scholarship.  In addition to these nine scholarship offerings participants, ages 6-17 years old in 2016, are eligible for a bonus drawing that will net one lucky youth a $25,000 college scholarship even if the participant never wets a line or enters a single fish during the entire tournament!
Major sponsors for the 27th Annual CCA Texas/STAR Tournament include Texas Ford Dealers, Tilson Home Corporation, Capital Farm Credit, Academy Sports + Outdoors, Whataburger, LP Building Products, Rio Ammunition, KTRK-abc13, Houston Community Newspapers & Media Group, Mercury Marine, Haynie Boats, Mowdy Boats, Dargel Boats, Shoalwater Boats, Hoffpauir Polaris, Texas Fish & Game Magazine, Texas Oilman's Charity Fishing Tournament, Coastline Trailers, McClain Trailers, Chris's Marine and Mt. Houston Marine.
 Visit www.ccamembership.org to get signed up today.  For more information, including a list of weigh-in stations, instant-entry registration locations in your area and weekly leader board updates, go to http://www.startournament.org.
CCA Texas is a nonprofit organization of sportfishing enthusiasts and conservationist working to save the natural resources of Texas coastal waters.  CCA Texas' Web page can be found at http://www.ccatexas.org.