NEWS RELEASE
FOR IMMEDIATE RELEASE
July 31, 2019
For more information call Dylan Sassman, Assistant Tournament Director (713) 626-4222
**Tagged Redfish Alert**
As of 12:48 pm today, July 31 2019, we have our fourth confirmed CCA Texas Ford Dealers Tagged Redfish division winner! Congratulations to Max Smith of Port Aransas. The tagged redfish division started off a little slower than normal this year, but has turned RED HOT in the past month! There's still plenty of time and opportunities to win before Labor Day, so GET ENTERED! Now here is the story, straight from the winners' mouth.
My name is Max Smith, and this is my story. It's Friday July 26, 2019. We have friends and family coming in to fish the Outboard Fishing Tournament to benefit the Port Aransas volunteer fire department. Other than the STAR, it's the only one we fish. Our friends and my cousin registered for STAR on Friday as we were all talking about… what if? My son and I registered back the first of June, because where we live we are able to fish often. On Saturday, we leave at 7 am and we hit several spots to fish. Finally, we start getting bites…so many different fish. We run out of 4 quarts of shrimp so we make a long run to get more shrimp. After getting more bait, everyone wants to go to my hole, everyone has that one spot right? We get to my spot and after a little bit, the bite is on. Everyone is catching fish!!! My cousin Bill and I are fishing off the front of the boat and our friends and my son are on the back. We catch a fish here and there, nothing exciting but we are getting fish. By now it's getting close to 3 and the tournament cut off is coming up soon and we are still catching fish. We have already had one of the best days, we probably put back at least six limits of reds. We had four reds, two big trout, a flounder and a sheepshead, we are having a great day.
Bill catches a fish and gets him in. I think, what the heck I'm going to jump up here and drop one more in. Almost as soon as it hit the water, fish on!!! It makes a run and then heads to the anchor rope. I turn it like a header on team roping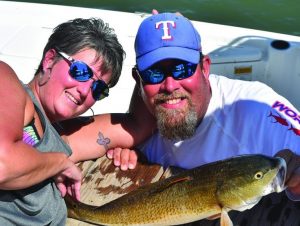 , it goes under the boat. I get him back and Bill nets him. Not once do we see the tag! While I'm trying to remove the hook, my son has determined that we don't need that small fish and tells me to kick it back. Out of nowhere, Bill says "that fish has a tag!" I was really close to dropping that fish back, I never notice the tag until it was pointed out to me. Now we have been joking with each other about this all day…hey mine has a tag! I roll the fish, I can't believe what I'm seeing!! Billy and I start screaming!!! Everyone in the back think we are still messing with them until we show them the tag. We take a few minutes for the fish to stop kicking so we can get pics. At the same time, we keep this under wraps till we get back to tell my wife. I wanted to see her face when she got the news. We have been CCA members for 26 years, and we have been hunting this fish for a long time. The last 16 years, we have lived in Port Aransas. My son has grown up through the STAR, this being his first year as an adult. The experience that everyone on the boat had is a lifetime memory that no one will ever forget. Thanks CCA for all those years of hunting that fish, the one with the tag!
You can experience this same pure joy this summer! We still have one truck, fifteen boats, three UTV's and $325,000 in scholarships up for grabs this summer in a variety of categories. So get entered today and catch your fish of a lifetime!
With one more Ford truck and Haynie boat combo and another five Haynie boats still waiting to be claimed and over fifty-five remaining tagged redfish, chances to win are incredible still! Along with the redfish, there are still tons empty spots, and beatable fish on the leaderboard just waiting for you. So get registered, get out, and win yourself a new boat or your child a life changing size scholarship!
Major sponsors for the 30th Annual CCA Texas STAR Tournament include Texas Ford Dealers, Tilson Home Corporation, Capital Farm Credit, Mercury Marine, Academy Sports + Outdoors, Evinrude, Whataburger, KTRK-abc13, Haynie Boats, Mowdy Boats, Shoalwater Boats, Hoffpauir Polaris, Dargel Boats, Texas Fish & Game Magazine, Coastline Trailers, McClain Trailers, Chris's Marine, Shiner Beer, Costa and MustangCAT.
Visit www.startournament.org or any weigh station to get signed up today. For more information, including a list of weigh-in stations, instant-entry registration locations in your area and weekly leader board updates, you can also go to www.startournament.org
CCA Texas is the leader in marine conservation. CCA Texas' Web page can be found at http://www.ccatexas.org.
Over $1,000,000 in prizes and scholarships
Longest running and richest tournament anywhere
Register anytime until September 2nd online